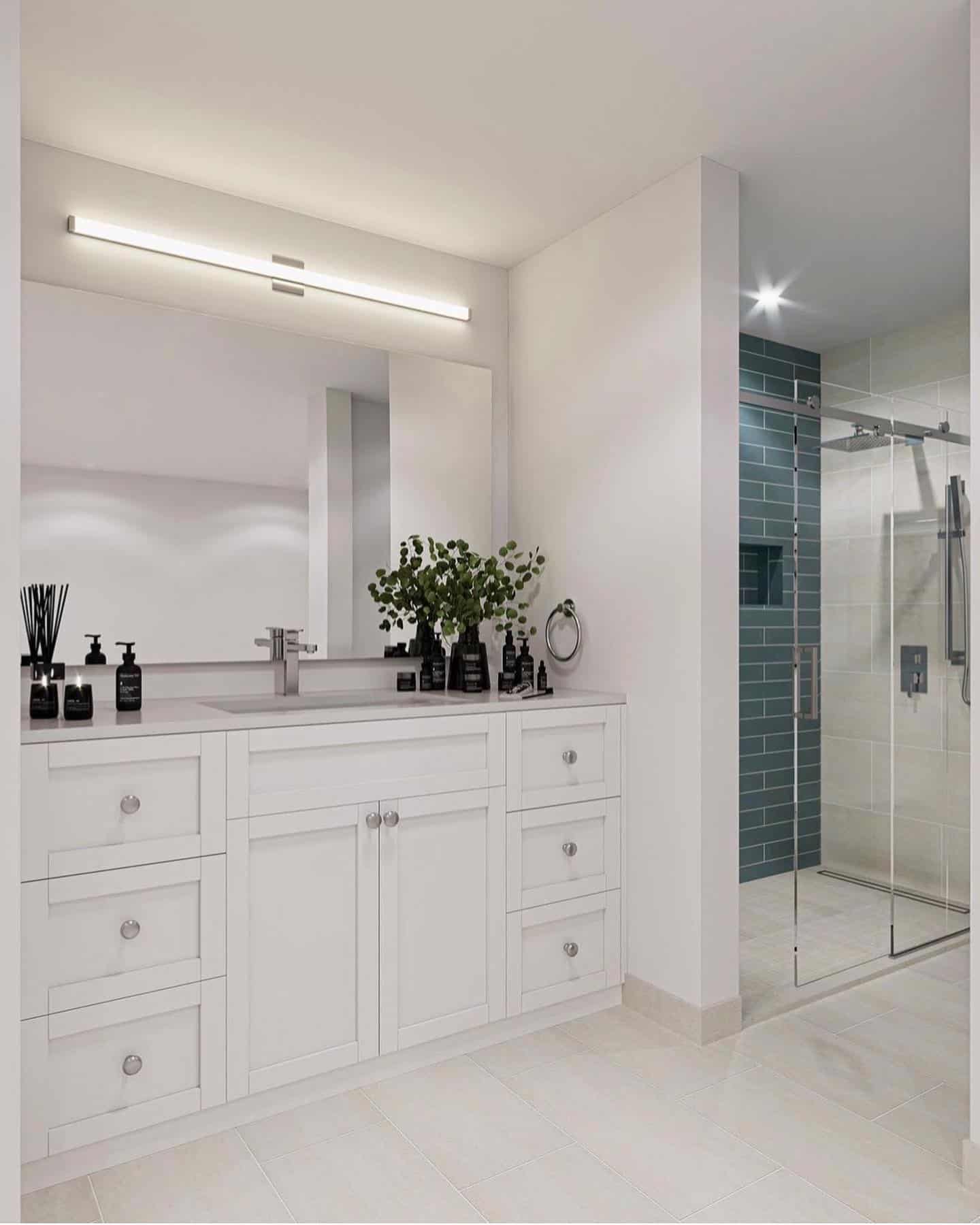 There's no doubt that Bathroom Design is something that is highly personal. Tastes in bathroom layout and design can vary dramatically from individual to individual. It is, after all, a place where you can find your own personal peace and solace, whether it is via a long hot shower or a luxurious bubble bath after a tiring day.
We understand that, as a homeowner, you want to have a bathroom space where you can feel the most comfortable. While some homeowners know exactly what they want when envisioning their dream bathroom, other clients may find the bathroom remodeling process slightly intimidating.
All these decisions about tiles, colors, countertops, cabinets and fixtures may seem overwhelming – this is where our team can help you every step of the way.
Looking to renovate a Bathroom?
Contact us today!
High Quality Bathroom Remodeling
Experts Remodel Can Help You Create Your Own Personalized Bathroom
If you ever find yourself in need of a bathroom remodeling project, Maryland Bathroom Remodel is here to guide you through the entire process.
Bathroom remodeling is a huge job, and, depending on the complexity of the design, more often than not, a client will stand to benefit massively from the assistance of professionals who are able to provide expert advice based on years of experience.
Our team of designers, craftsmen and customer service are all based in-house.
This means that from the moment you contact us to the moment the job is finished, you can always trust that there will be no surprises that may arise from miscommunication involving other contractors or other parties.
What We Can Do For Your Bathroom Remodel
Here are some of the most common aspects to bathroom remodeling projects, that we have encountered in our extensive experience, that you may wish to consider before starting.
1.Bathroom Style
 What is your preferred bathroom style? European, Traditional, or Contemporary? We work closely with you to present the best bathroom style choice that fits within the overall style of your home – or even something completely different yet complementary.
 2.Windows
 The windows of your bathroom protects your privacy, and also serves as insulation and ventilation. So it makes sense to choose only the best windows to have in your bathroom remodel job.
 3.Cabinetry
 Your cabinetry is a huge part of the overall look and feel of your bathroom, and this is one of the most common changes that are undertaken in a bathroom remodel job.
4.Fixtures and Fittings
 Your lighting, taps, sinks and faucets can complement or clash with your bathroom design. Our designers will advise you on the best fittings to complement your fixtures.
 5.Color
The right colors can truly bring your new bathroom to life. Using your design inspirations, we work with you to create and match colors to the vision you have in mind for your dream bathroom.
Our clients usually bring in a few visual samples of their dream bathroom design, be it from an Instagram feed or a Pinterest layout, or even bookmarked in home décor magazines.
Our in-house team of professional designers will take all these influences and create a personalized design just for you, which we promise you, you will love. 
Here is an important thing to note:
Sometimes, low quality home renovations or remodeling jobs may affect the resale value of a home, because of poor workmanship or compromised fixtures such as plumbing or electricity.
When you choose us, you can have peace of mind knowing that the safety, and more importantly, the resale value of our client's homes are our top priority.
We only execute projects which have been legally permitted and have been assured to not negatively impact your home's market value in any way.
Other Services We Provide
Here are some of the other Bathroom Remodeling services we provide:
Vanity Installation
Water Leak and Specialist Plumbing
Electrical Fitting
Fixtures
Bathroom Cabinetry
…and more!
If you have any inquiries, don't hesitate to contact us today to find out more about Our Services.
Initial Call
You call us with all of your requirements for your bathroom remodeling project. We then establish a broad scope of work and a rough price range for you to consider and discuss with us.
On-site visit
We visit your home to conduct detailed research like measurements, fixtures, fittings etc.
Designing stage
We get to work designing all of the tasks required in the project and present the solution in a proposal to you.
Execution / Construction
Upon agreement of the proposal, we immediately start applying for the necessary permits and we begin construction ASAP!
Here at Experts Remodel, we pride ourselves in always giving our clients in Washington DC, Maryland and Virginia 100% satisfaction. The trust our regular clients have in us shows that we constantly surpass customer expectations by a large margin
Our team of professional remodelers, designers and builders have many years of shared expertise between them.
No matter how big or small the project is, we are always here to listen to your requests or problems when it comes to remodeling or renovating, and give a sound, expert opinion with respect to your needs and wishes.
Contact us for a Free Quote
Typically tile work and plumbing. Both of which are found in the most expensive area in the bathroom remodel, which is the shower.
Bathroom remodeling costs tend to skew toward labor. Other expenses that increase the budget is the type and amount of bathroom flooring and shower tile.
The size and area of the tile will impact the cost breakdown of your new bathroom.
Smaller tiles may cost less from the manufacturer but will require more labor to install.
Ceramic black and white patterned tiles.